Looking for free UX writing support for your company? Join our Accelerator program.


WHAT'S INSIDE ✍️

Issue #223 (Feb 15th, 2023)
New ChatGPT UX writing use cases

2023 conferences for UX writers

So. Many. EVENTS!!

Welcome to the AI Writing Lab
ARTICLES 🗞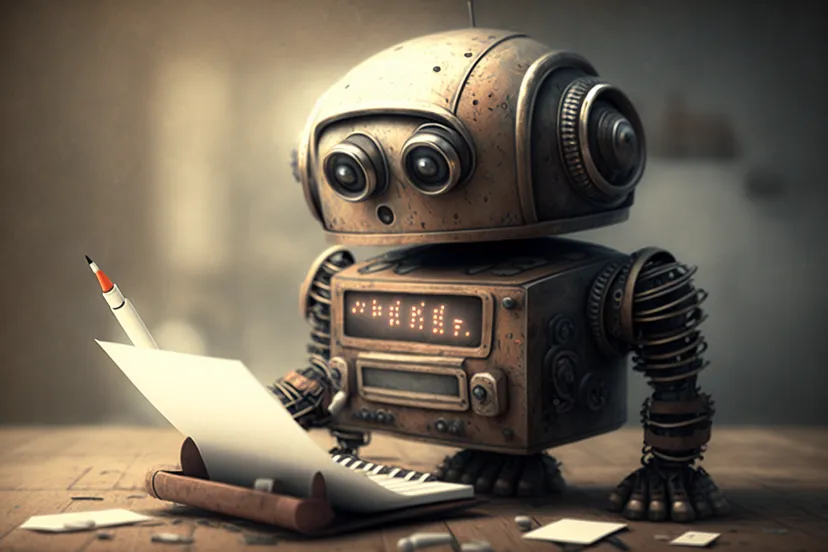 🦾 Everybody is trying their hands at using ChatGPT to enhance their UX writing workflows—and rightly so. We strongly believe that you either learn to use AI, or you get left behind (more on that below).
Here are some great use cases and examples from UX Planet Editor-in-Chief Nick Babich.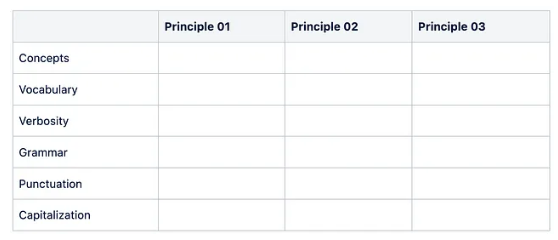 🙊 If you've never created a brand or product voice chart, this article will show you a great method to get started. This kind of chart is a great first step to creating a company style guide.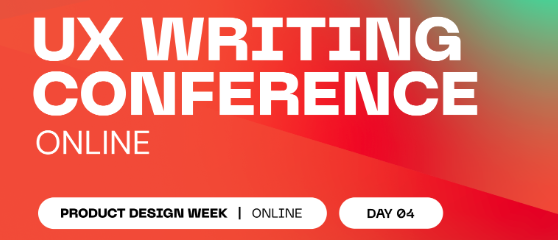 🗓 The pandemic is, thankfully, behind us. So, who wants to start hitting up the UX conference circle? Online or in person, mark your calendar with some awesome events for UX writers.
MICROCOPY BITE 💬
Discord (aka Slack for kids) is an outstanding product with excellent UX writing. It's a great example of how UI copy can do so much more than guide users—Discord wields its brand voice oh-so well.
Today though, we stumbled across strange tooltip text. "Mute" makes perfect sense, but "Deafen" and "Undeafen"? Why not "silence"?
Next week, we'll share some fun Discord examples.

PILLARS OF COMMUNITY 🏛
Community answers to trending topics. Join the conversations below.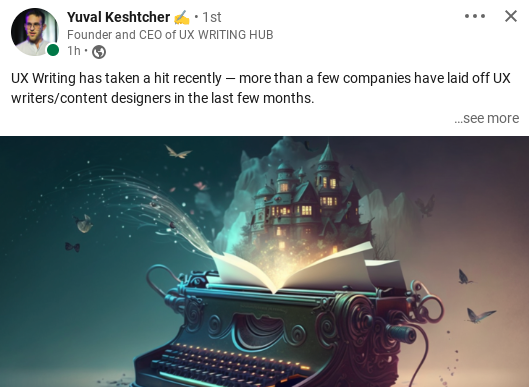 UPSKILL: EVENTS & WORKSHOPS 📚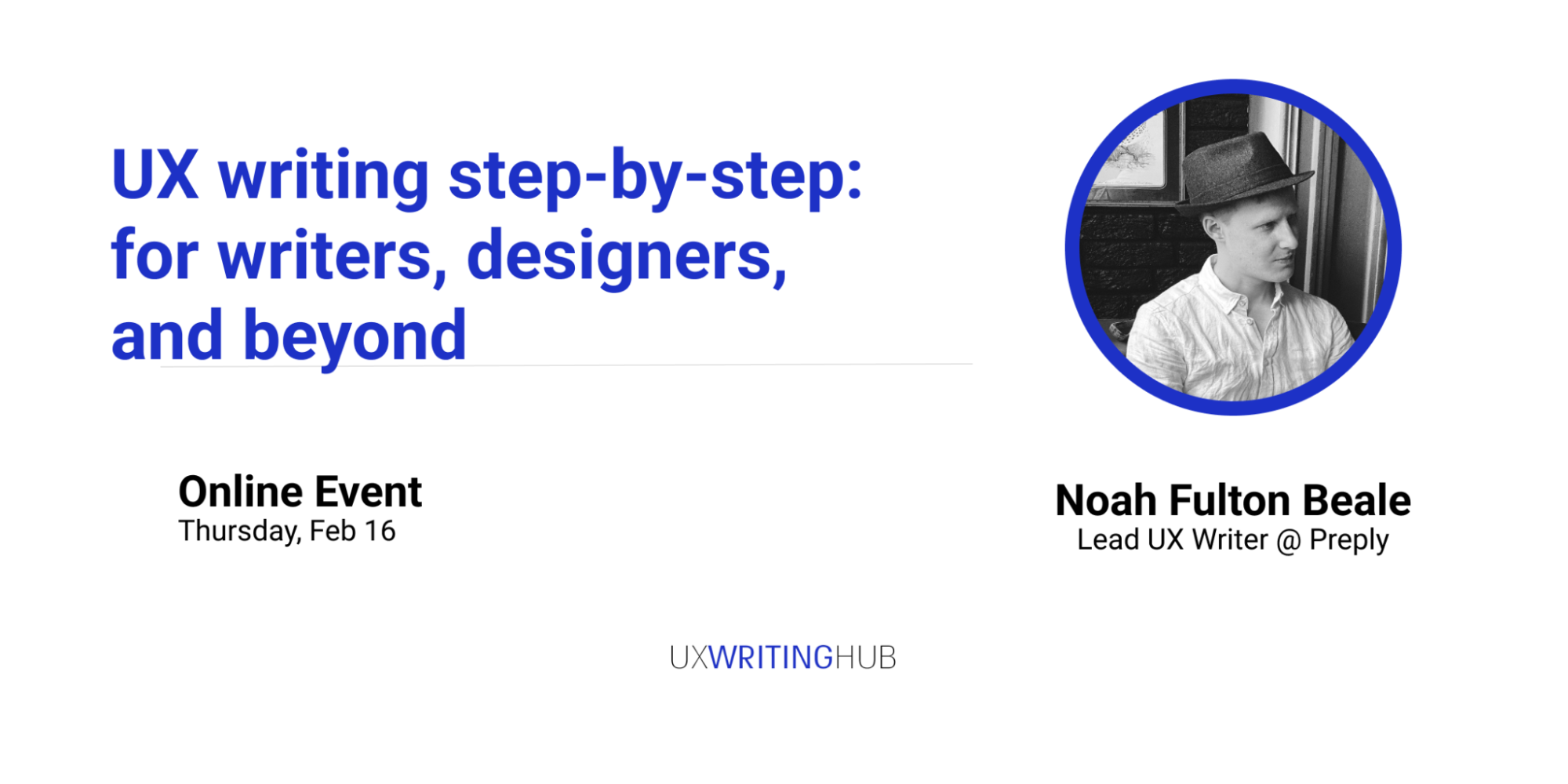 UX writing event: TOMORROW
In this event, Noah Fulton Beale will share a step-by-step process that helps UX writers and their collaborators focus on important decisions for 3 main stages of creating clear communication: define the message, shape the format, and refine the words.

Join us tomorrow, February 16th, for UX Writing Step by Step: For Writers, Designers and Beyond.
Free AI workshop:
AI is more than just ChatGPT. Learn how generative AI can help improve and enhance your workflows. Join Yuval to talk about:
Generative AI content for websites and apps

Building user personas with AI

Analyzing user data using AI

Content marketing and generative AI

And more

Generative AI for UX Writers and Designers (Free online event) (Tue, Feb 28th)
Hands-on UX Writing Workshop:
The words you use can make or break the user experience. Join our friends at Bitesize UX to redesign how Nike users create custom sneakers, and create an awesome project you can show off!
This $25 workshop is FREE for UX Writing Weekly readers, so save your spot today!
Can't join live? No worries—register anyway and get all of the recordings, resources, and templates straight to your email. (Wed, Mar 1st)
Figma for UX writers:

The fine folks at Figma just posted a 10-minute tutorial on Figma of UX writers—great stuff! But if you want to go beyond the basics, check out our Figma Masterclass—now 30% off with the coupon code FIGMA30.
JOBS 💼
If you're still reeling from that Eagles Super Bowl loss (stupid refs!), soothe your pain with a UX copywriting position in the City of Brotherly Love.
In this hybrid, temporary position at Superbeo, you'll focus on interpreting cybersecurity products.
And while times may be tough for tech, there are new positions out there. Check 'em out on the job board.

THIS WEEK IN AI 🤖

Last week, we shared a few resources for detecting AI-generated texts and showed an example of them correctly detecting a ChatGPT-generated paragraph.
And while those tools are impressive, it is still possible to fool them—if you know the tricks. Using the exact same prompt, we were able to generate text that fooled all three detectors.


And what's that trick, you ask? Meet OpenAI's Playground.
It uses the same model as ChatGPT, but allows you to tweak the settings.
Compare a few sentences from two AI-generated texts, first from ChatGPT, then from OpenAI's Playground with custom settings:
ChatGPT:
The ocean is a vast and mysterious body of water that covers most of our planet. It's home to an incredible variety of life, from tiny plankton to massive whales. The ocean helps regulate the Earth's climate, generates half of the oxygen we breathe, and provides a source of food for billions of people.

OpenAI Playground:
The ocean is an incredible environment. Its vastness and complexity are both awe-inspiring and mysterious. From the depths of the Mariana Trench to the mysteriously beautiful bioluminescent dinoflagellates found in deeper waters, the ocean is filled with amazing creatures, mysteries and secrets yet to be uncovered.
Again, these used the exact same prompt, yet one was marked as AI-generated and the other as human-generated. Not only does this show that the detectors can be fooled, but it also shows that most people aren't using these tools to their full potential.
That's why we're pleased to announce the launch of a new initiative: the AI Writing Lab.

Starting next month, all of our certificate UX writing courses, including the UX Writing Academy, will include new lessons about incorporating AI tools into a UX writing practice.
If you follow this newsletter, you know we've been following AI writing from its outset. We've been early adopters and now, we want to share what we've learned.
Early-bird enrollment is now open for our April cohort. If you want to stay ahead of the curve, join the first and only UX writing program to teach AI writing tools.
In other AI news, Google and Bing are now in fierce competition to incorporate AI into their search engines. You know times are strange if we're talking about Bing other than to say, "Bill Gates doesn't even use Bing."
SHARING IS CARING 🤲

Have something you think would be a good fit for our newsletter?
Share an article, portfolio, microcopy example, event, or another resource with the UX Writing Weekly team — we may just feature it next week!
VOX POPULI 🗣️
Join our online communities, and take part in the discussions and debates that are shaping the field.
Enjoyed UX Writing Weekly? Share it with your UX besties.
See you next week!