Just missed 22/2/22 by a day! Oh well, maybe next time …
WHAT'S INSIDE ✍

Issue #172 (Feb 23rd, 2022)
UX and technical writers: unite!

Eudaimonistic-centered design

Check your undies for a UX lesson

The perfect paragraph game
🏛 User-centered design: it's a no-brainer, right? But what if we can take it one step further and consider the user's well-being? Dust off your Greek dictionary and get philosophical.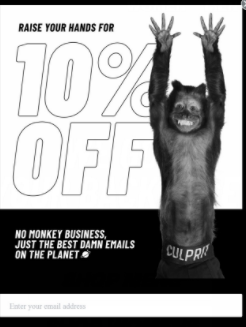 🩲 UX writing lessons can pop up anywhere—even when you're just tryin' to buy some new undies. See how one lousy error message inspired a rewrite.
MICROCOPY BITE 💬
Thanks, Zoom, for the handy microcopy here.

PILLARS OF COMMUNITY 🏛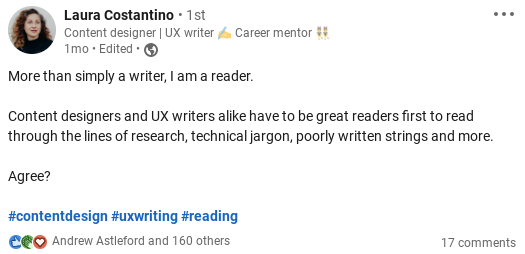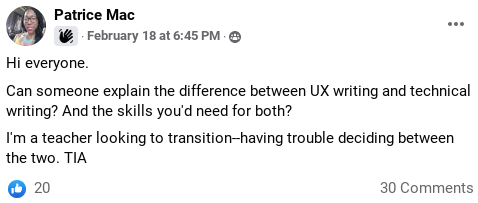 UPSKILL: LIVE EVENTS & MORE 📚

Free Webinar tomorrow!
New to UX writing? Thinking of making the switch? Join Yuval to learn about breaking into the field.
👉 How to become a 6-Figure UX Writer 👈
UX Salon Words conference:
Join Regine Gilbert, author of Inclusive Design for a Digital World, for an enlightening talk on employing strategies to create collaborative, inclusive, and accessible experiences—only at UX Salon WORDS 2022. (March 7th–9th)
Use our coupon code for a 10% discount: UXWritingHub10
Former or current UXWA student? Save 40% (email for details).
PORTFOLIO 🎨

Are you a senior-level writer looking for a different approach to your portfolio? Darci Groves divides her work into writing and leading. Very effective.
GAME TIME 🎮
Think you know a thing or two about line height and font size? Tweak the settings and try to create the perfect paragraph. It's harder than it sounds!

https://betterwebtype.com/triangle/