The rise of UX
User experience design, research, and writing are all children of the digital revolution. Today there's an app for everything, and there is massive, growing demand for people who can create great digital experiences.
UX researchers learn about people's behavior and collect relevant data, UX writers use that data to create content for digital products and interfaces, and designers visualize the content and data in a user-friendly and intuitive way.
UX-related books
Alongside the rise of UX, there has been a steady rise of books on the subject. In fact, there are so many that we'll probably never get to the bottom of the pile.
I know; books can be overwhelming. Is there anything more stressful than a growing number of books waiting to be read? The thing is, we all know that books are good for us. They give us in-depth knowledge in a way articles never will and keep our minds active. And if you're an aspiring UX writer, reading more will do wonders for your writing skills.
If you find it hard to get going with books, you'll find some reading tips at the end of this article. But first, check out the recommendations from me and other members of the UX Writing Hub crew!
Shortcuts
Jump straight to:
UX writing books | Books for UX writers
UX design books | Books for UX designers
UX research books | Books for UX researchers
Other UX-related books | Books for all content and product people
Reading tips to get going with books
Final thoughts
Become a UX writer pro
---
UX writing books | Books for UX writers
Content Design by Sarah Richards, who wrote the content style guide for the UK government.

Clear, concise, and useful from start to finish, with tons of insights for UX writers. Plus, it gets top marks for presenting everything in a way that makes it easy to digest.
I had a chat with her about her process of finding her way as a content designer in the Writers in Tech podcast.

---
Everybody Writes by Ann Handley
Every chapter of this book is a gem with insights from the traditional writing world. You'll get lots of practical tips you can implement in any piece of content you create. My favorite takeaway is the section about working with great editors and how they can change your life. The same goes for great UX writers that edit the copy in your product interface!
---
Nicely Said by Nicole Fenton
Top writing tips with a strategic edge for all kinds of web editors. This is one of the first books I recall that talked about writing for the web and digital interfaces, a topic that had been overlooked for years. Beautiful illustrations throughout the book make it an easy read.
---
Strategic Writing for UX by Torrey Podmajersky
Torrey Podmajersky used to work on the copy of Xbox and now works at Google. In her latest book (released in July 2019), she shares the strategic wisdom she's picked up during the years. 
---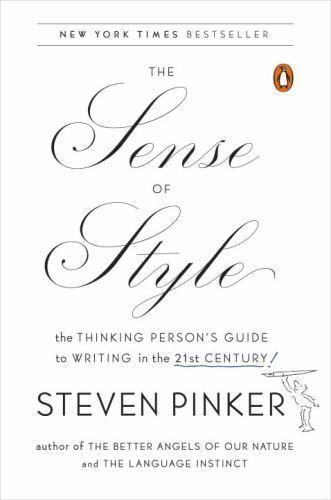 The Sense of Style: The Thinking Person's Guide to Writing in the 21st Century by Steven Pinker
Cognitive psychologist and linguist Steven Pinker takes a science-based approach to writing and sheds new light on many old, outdated concepts. A must-read for anyone writing in the English language.

---
Microcopy: The Complete Guide by Kinneret Yifrah
This book is called "the bible of microcopy" for a reason. If you want to become a UX writer and plan to read just one single book, make it this one. As it includes lots of examples, it's also great as a reference book when it comes to creating different microcopy scenarios.
---
UX design books | Books for UX designers
Universal Principles of Design by William Lidwell, Kritina Holden and Jill Butler
If you're after a design reference work, you can't go wrong with this cross-disciplinary encyclopedia.
---
100 Things Every Designer Needs to Know About People (Voices That Matter) by Susan Weinschenk

This classic from 2011 is still mega useful both for designers and for writers who want to develop their design thinking.
---
The War of Art by Steven Pressfield

If you're guilty of procrastination, you're not alone. This book will help you get over it.
---
Don't Make Me Think by Steve Krug

Another classic that's still relevant for *everyone* who works with the web in any shape or form.
---
Solving Product Design Exercises: Questions & Answers by Artiom Dashinsky
This little gem of a book helps you to get ready for your next design interview. It breaks down the process step by step and shows you exactly how to prepare for that dreaded interview exercise.
Next up on my UX design reading list is this one, released in November 2019:
User Friendly by Cliff Kuang and Robert Fabricant
---
UX research books | Books for researchers
Just enough research by Erika Hall
Erika Hall's book is the cornerstone not just for UX researchers, but for anyone in a product team (including stakeholders). People need to care more about data- and research-driven design, and this guide tells you exactly how to do it. I also had a fantastic conversation with Erika about how to plan your design research on the Writers in tech podcast.
More UX research books on my reading list:
Interviewing Users: How to Uncover Compelling Insights by Steve Portigal
The User's Journey: Storymapping Products That People Love by Donna Lichaw
---
Other UX-related books | Books for all content and product people
Mismatch by Kat Holmes
Wish you were more aware of inclusive design? Mismatch is a great place to start. This book explains why we should stop thinking of accessibility as something to fix for the benefit of a minority. After all, disabilities affect everyone, sooner or later – whether it is for a short period or permanently.
---
Cross-cultural design by Senongo Akpem
Great read if you're involved with multilingual or multicultural products. Get lots of insights on how to handle cultural differences and learn what questions you need to ask before launching language versions.
---
Predictably Irrational by Dan Ariely
I read this one when I was in high school (12 years ago!). Dan Ariely's research on human behavior blew my mind, and it still does. Totally inspiring and way ahead of its time. If you know Dan, please tell him I would love to interview him for my Writers in Tech podcast 🙂 
---
Nudge by Richard H. Thaler
This gem explains how to encourage people to take action, whether you're working on a new app or writing a note for the tip jar in a bar. It's an inspiring book that will help you to understand what influences people to make a decision. 
---
Measure What Matters by Larry Page

As a data-driven person, I design, write, and create only things that I can measure. 
This book helped me understand my OKRs (Objectives and Key Results) and the actions I need to take to reach them. You'll find out how companies like Google and Intuit measure their success and optimize their results in an ever-changing world. 
---
Everyday Information Architecture by Lisa Maria Martin
As a UX professional, you will come across information architecture sooner if not later. Brace yourself by reading this excellent book on how to organize content for digital interfaces.
---
Essentialism: The Disciplined Pursuit of Less by Greg McKeown 
In a world where digital products fight for our attention, focus has become an important commodity. In this book, you'll learn how to cut through the clutter and decide what you need to focus on versus what is not that essential. 
---
Ruined by Design by Mike Monteiro
My top tip about ethical design, published in 2019. It's a huge wake-up call for the design industry and how UX people can help design a world we all want to live in.
---
Hooked: How to Build Habit-Forming Products by Nir Eyal
The first hard copy of a UX book I ever had is a bestselling game-changer about how to create addictive products without expensive advertising and pushy content.
Check out my talk with Nir Eyal about ethical design on the Writers in Tech podcast too!


The New Rules of Marketing and PR by David Meerman Scott
Why is there a book about marketing in an article about UX? The main reason is that it takes quite a different approach to marketing. Instead of traditional sales tactics, it tells us to start communicating with our customers and focus on how we can truly solve their problems. Content marketing the way it should be, in other words.
It can also come in handy for UX writers who find themselves battling with the marketing department, as it gives plenty of arguments for a user-focused approach in marketing too.
---
Reading tips to get going with books

That's it for now! Overwhelmed? Here are a few tips on how to get going:
First of all, you may think that you don't have time for books, but you do. Set aside a little bit of time to read: 30 minutes in the morning, for example. Or whenever works for you. Stick to it for a week and see how it goes!
Tackle one book at a time. Pick one that catches your attention and forget about all the others for a while.
Thanks to technology, there are numerous ways to read. It doesn't have to be a regular hardcopy book – try a Kindle or other ebook reader, or listen to books on Audible. Go on, give it a go and see what you think 🙂
There are also lots of helpful reading apps. For example, if you use Kindle Cloud Reader and Google Chrome, you can install the speed-reading extension Kreeder.

Final thoughts
Understanding and implementing insights from the books on this list doesn't just make work more fun, it has also made me a better professional in my day-to-day work. Make time for reading, and nail your next UX project or task!
Have you read a book that should be on this list? Shoot an email to [email protected] and let me know about it.
Become a UX writer pro
This article was co-written with Anja Wedberg